Task Manager is one of the most widely used applications on Windows, and it has always provided a powerful way to manage system resources, including running processes, system files, and startup programs. Windows 11 version 22H2 (2022 Update) has revamped Task Manager with a new look built around Fluent Design.
The new Task Manager includes options to better align it with other applications such as Microsoft Office, Paint, Outlook, etc. While Task Manager itself has been redesigned, the way you can use it hasn't changed. You can always click the Processes tab to manage running processes and more.
At the same time, the development of Task Manager functionality has been extremely slow. For example, the tool doesn't even have a search bar. However, the latest preview version has confirmed that another basic feature, the "search bar", which people naturally expect in an app like Task Manager, is finally coming with the next update.

Currently, there is no search functionality in Task Manager. The only way to find a particular one is to scroll through the long list of running processes or press the key representing the first letter of the application on your keyboard, which often makes it difficult for users to find and quickly kill a running process.
Many users would rely on more powerful alternatives like Processes Explorer to find a particular process and kill it without having to use Task Manager.
Thankfully, Microsoft's stupidity can now come to an end.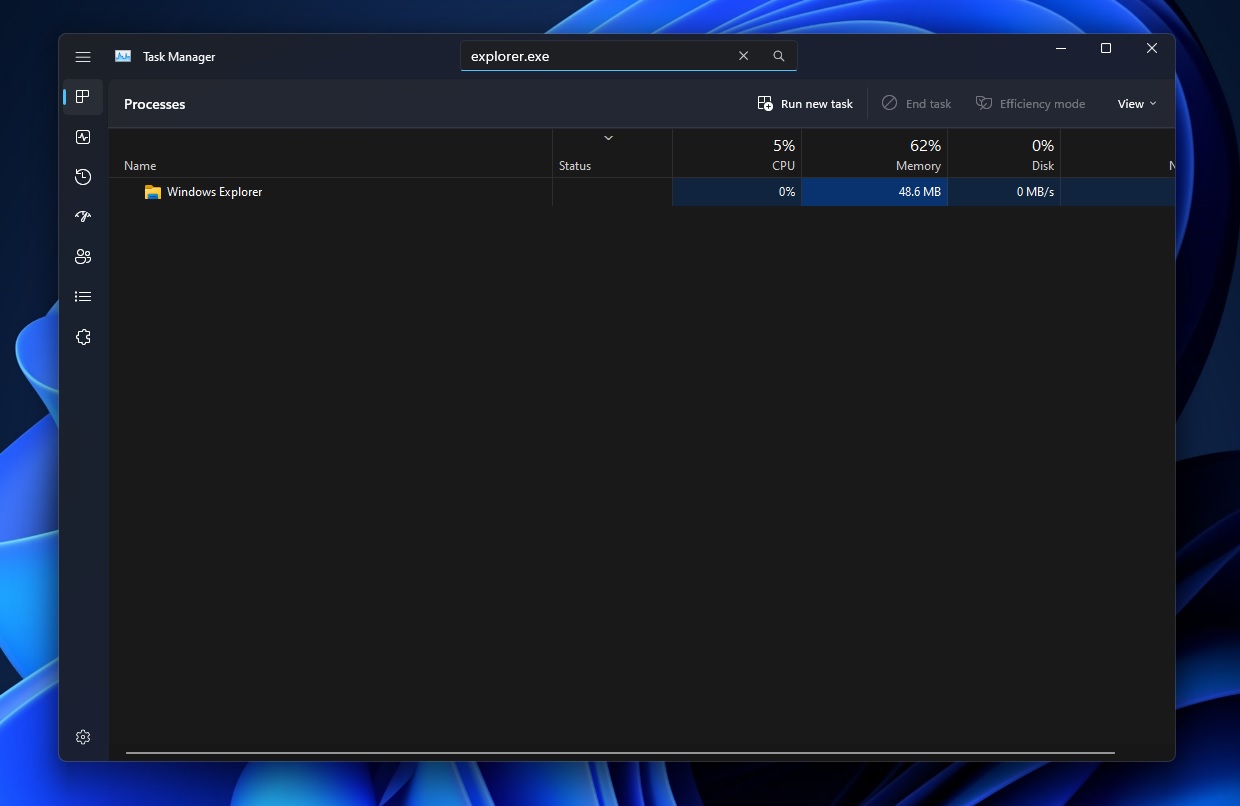 Microsoft is testing a search bar in the Task Manager area/top bar. This feature is hidden in the latest development builds of Windows 11.
As you can see in the screenshot above, you can enter keywords like file explorer and see results that match your search query. However, the Task Manager search bar will not work if you do not enter the exact process name or ID.
This will likely improve in the coming weeks, as the search bar makes it clear that you can find processes just by typing the name. Needless to say, the addition of a search function helps bridge some of the gaps between Task Manager, Process Explorer, and other third-party tools, at least.
Task Manager search bar is coming to Windows 11 22H2
Windows Latest understands that the feature will be backported to Windows 11 version 22H2 in the coming weeks/months.
The search bar integration is not guaranteed to be fully updated and can be easily enabled via a monthly update, according to sources familiar with Windows development.
In addition to Task Manager improvements, Microsoft is also working on a "Moment 2" update for Windows 11 22H2 with a tablet-friendly taskbar and more.