Android fans would love to tell you how long they've been waiting for an official smartwatch from Google – but there's a space on their wrist where a wearable should be. The iPhone crowd is now on its eighth-generation Apple Watch, after all. Expectations are therefore very high that the Pixel Watch will get its money's worth. So no pressure.
With an unapologetically premium design and newly acquired FitBit fitness tracking aid, things are off to a good start. Reducing Apple isn't going to hurt either. But Google's early efforts lack a few features we've come to expect from top-tier smartwatches, and there's a one-size-fits-all approach that won't necessarily suit everyone.
Is there enough here to satisfy Pixel loyalists?
Design and construction: mostly minimal
Arriving in one size, and with no Pro, Ultra or SE variants to confuse things, the Pixel Watch is a small 41mm. It's the same as the smaller Apple Watch, but with a circular screen instead of a rectangular screen. It looks quite small on our wrist – but not ridiculously small, and is sophisticated enough even with a basic black silicone strap.
It's almost entirely forward-facing, with domed glass that perches perfectly on the stainless steel body. For sheer style, we reckon it's on par with the Apple Watch and Samsung's latest Galaxy Watch models.
The whole thing is 5ATM water resistant, and Gorilla Glass 5 should stave off light scuffs and scratches, but it won't survive the same punishment as sapphire crystal found on other high-end smartwatches. . The domed shape can also make it difficult to install a screen protector.
The watch body is particularly subtle in matte black, with champagne gold and polished silver being a bit more eye-catching. The only flourish is the digital crown on the side, with a shortcut button sitting stealthily above. Pressing the latter can be tricky, given that it's embedded in the lower half of the watch body.
Google has come up with a nifty mechanism for swapping the straps, which is similar to a DSLR lens. You press a button to release the lock, then slide the strap counter-clockwise to remove it, then do the same counter-clockwise to clip in a spare. That means you're stuck with official Google bands and straps at launch, and they're very expensive, but there's at least a huge range to choose from including fabric, metal, Milanese loops and leather.
Screen: full circle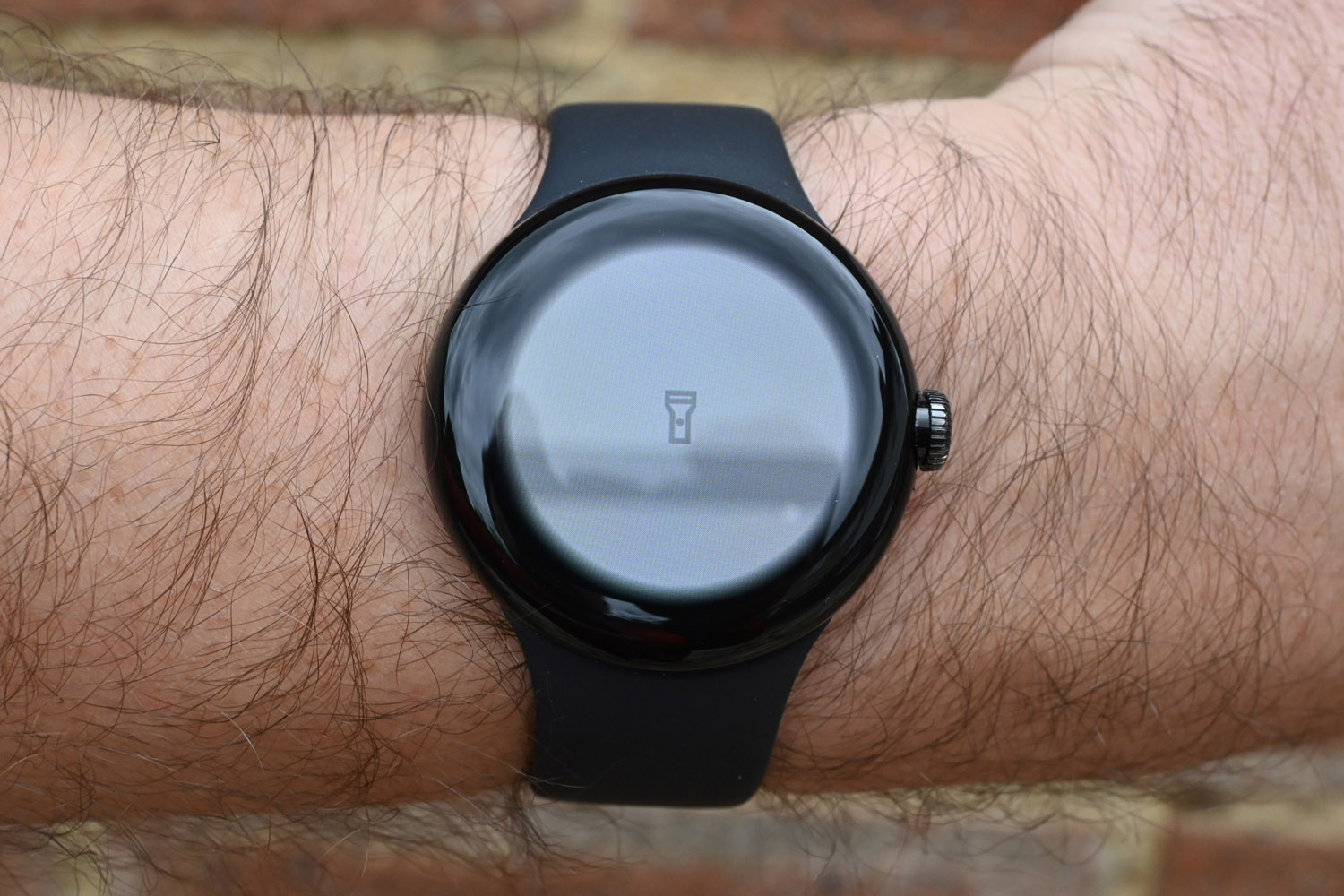 At 1.2 inches, the circular screen isn't particularly large and the bezel around it is disappointing, but you'd be hard-pressed to notice. The WearOS interface takes full advantage of the perfect blacks provided by the AMOLED panel, so the two blend seamlessly. The curved glass also has a slimming effect.
The 450×450 resolution is razor-sharp at arm's length, and it helps that Google hasn't tried to squeeze too much information into every watch face and menu. Everything is easy to read at a glance, with great viewing angles and a user interface that doesn't bombard you with color.
An impressive 1000 nits peak brightness and fast-reacting ambient light sensor mean you're never squinting at the screen, even in direct sunlight. The watch wakes up quickly when you raise your wrist and is smart enough not to turn on while you walk around.
While we like the always-on display option, which shows a simplified version of your current watch face onscreen even when you're not paying attention to it, it does have a big impact on battery life. , which Pixel Watch does not. t exactly have to spare. It's off by default, and we think it's best to leave it that way, unless you don't mind reloading more regularly.
Battery Life: Day Trip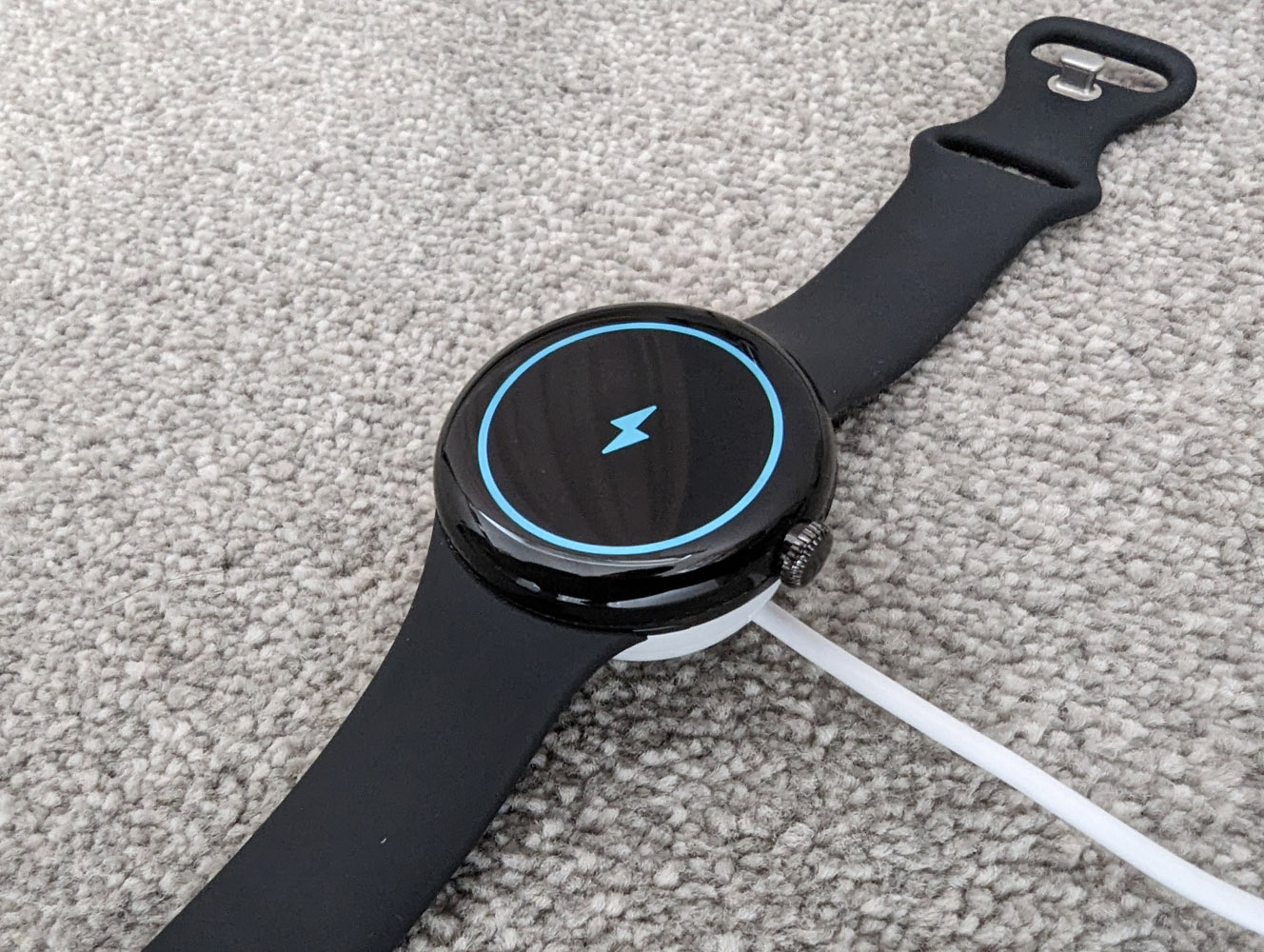 Google estimates that you'll get 24 hours of use from the Pixel Watch, which should put it ahead of the latest Apple Watch. We found that estimate far too generous, at least with always-on display enabled – a battery saver warning would flash well before bedtime, after starting the day with a full charge, running 30 minutes and get a reasonable amount of notifications.
We saw the battery percentage drop by around 7% per hour just sitting at a desk, which translates to around 14 hours without activating battery saver mode. That's a far cry from what we've seen from the last generation of Samsung Galaxy Watches.
Let the screen sleep while you're not using the watch and things get better. Even with a workout, it'll last all day and through the night without needing to recharge – but it'll be over, and you'll want to recharge before you leave the house the next morning.
If Google had gone with a bigger watch, there would have been more room inside for a bigger battery. We're betting the second-gen model will come in more sizes for those who demand more toughness.
The magnetic charging puck takes 30 minutes to bring the battery back to half capacity, and nearly 80 minutes to fully recharge. That's pretty standard for most smartwatches.
Interface: back to basics
WearOS, the smartwatch software developed by Google, is not really new. Samsung, Fossil and others have been using it for a while, but this is the first time Google itself has had the final say in looks and functionality. The Pixel Watch is getting version 3.5, with the same fonts, icons, and color schemes you'll find on Google's Pixel phones. All watch faces have similar minimal designs, but are easy to customize with multiple complications.
The UI is a cinch to move around, with swipes up and down to reveal new notifications and the quick settings menu, and left/right swipes scrolling between all installed 'tiles' . Think about the weather, your current step count, music playback controls, and upcoming calendar appointments. You can also turn the Digital Crown to scroll through menus and use the shortcut button to see your most recently used watch apps.
It's loaded fresh with Google apps, as you'd expect. There's turn-by-turn navigation from Google Maps, contactless payments through Google Wallet, smart home control through Google Home, and voice commands with Google Assistant. The Play Store is also at your fingertips, for adding third-party favorites like Spotify. 32GB of built-in memory means plenty of space for downloads and for storing music for offline playback.
The small screen can make responding to notifications on your wrist a little tricky, but it's better than having to choose from a list of preset messages. There's a latest-gen Exynos processor running things behind the scenes, but everything feels responsive enough, with apps loading quickly and no signs of stuttering when scrolling through menus.
It's comfortably the best wearable user interface Google has ever made, and as easy to use as an Apple Watch – although the iPhone maker wins on future support, with Google only committing to three years of guaranteed software updates.
Health and Fitness: Focus FitBit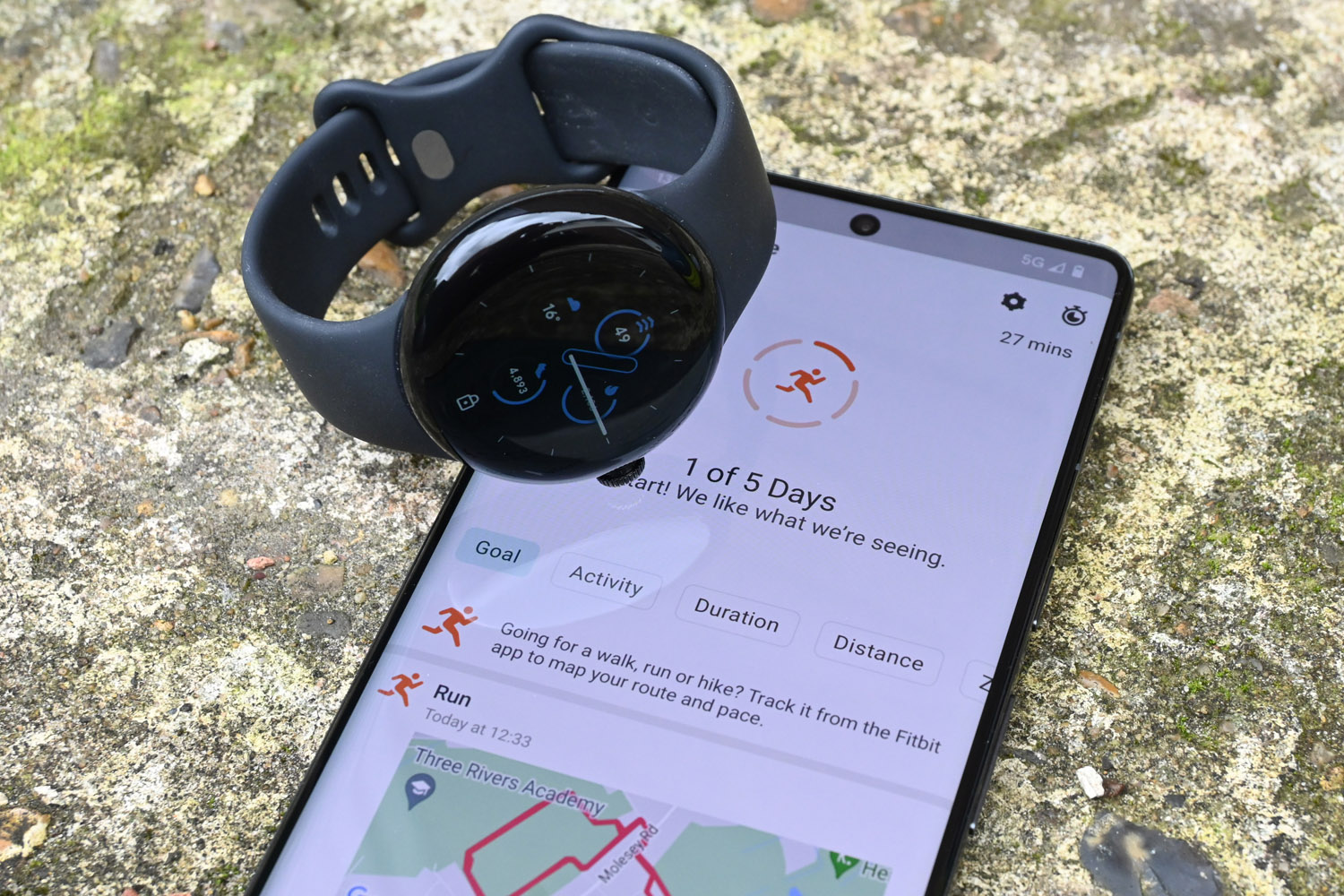 The Pixel Watch doesn't go crazy across different disciplines (it'll log 40 specific sports, but who's counting) – rather it's concerned with general health and well-being, with FitBit's Active Zone Minutes front and center. Data is synced to the FitBit app, which is comprehensive without being overwhelming, and Watch owners get six months free access to the premium subscription tier.
Fair play to Google for bringing in the experts, rather than going all out with its own Google Fit software: FitBit is much more detailed, with food and water intake, mindfulness reminders, and fitness tracking. exercise readiness as well as the basics like step count and calories burned. . It also brings some of the best heart rate and sleep tracking outside of high-end multisport watches, with 24/7 monitoring. An ECG function is also present and decent – something only found in high-end wearables.
The main thing currently missing is blood oxygen saturation, although the hardware is there to support it once Google is ready with a software update. There's also no temperature sensor, like you'll find in the latest Samsung and Apple Watches, but we've yet to see any convincing use of the information that can be gathered, so it doesn't look like to a dealbreaker.
Step count, heart rate monitoring and GPS route tracking all performed admirably in our testing, doing well with a mixed running route that included a fair amount of tree cover. The results were consistent and on par with the Samsung and Apple devices we had access to during testing, so recreational athletes needn't feel like they're missing out by not opting for a Garmin.
Walking, running, cycling, swimming, and outdoor sports are all detected automatically, but the only way to enable GPS tracking is to manually record an activity.
Google Pixel Watch Verdict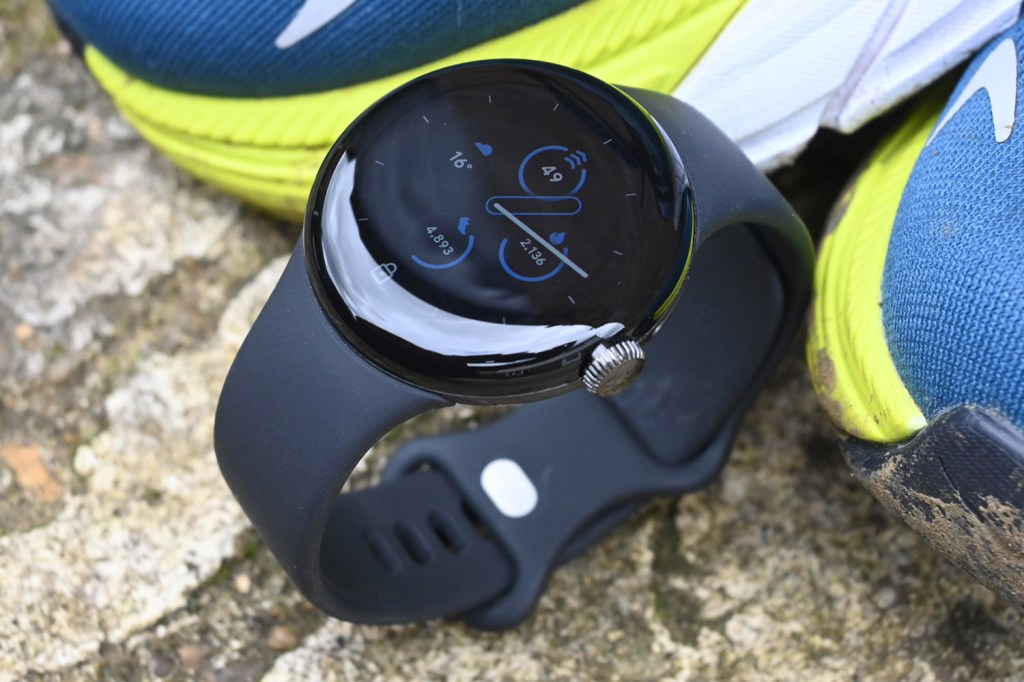 With its striking style and easy-to-use interface, the Pixel Watch is a joy to wear on your wrist. The software is nifty and the FitBit health tracking is comprehensive without alienating fitness phobics – but Google didn't entirely knock it out of the game on its first attempt.
Battery life isn't all that impressive, screen bezels aren't the right kind, and the lack of a larger model is going to limit its appeal. It's not to be overlooked that this is also a premium watch: £339 might be a little less than the fee charged by Apple for one of its watches, but the Samsung Galaxy Watch 5 is sweeter for your wallet while staying out of the mains longer. .
If you're swayed by appearance, however, it's not hard to overlook these limitations.
Technical specifications of the Google Pixel Watch
| | |
| --- | --- |
| Filter | 1.2 inch 450×450 AMOLED |
| CPU | Exynos 9110 dual core |
| Memory | 2 GB RAM |
| Storage | 32 GB |
| Operating system | WearOS |
| Battery | 294mAh |
| Connectivity | Bluetooth 5.0, NFC, WiFi |
| Sustainability | 5ATM |
| Dimensions | 41x41x12.3mm, 36g (body) |